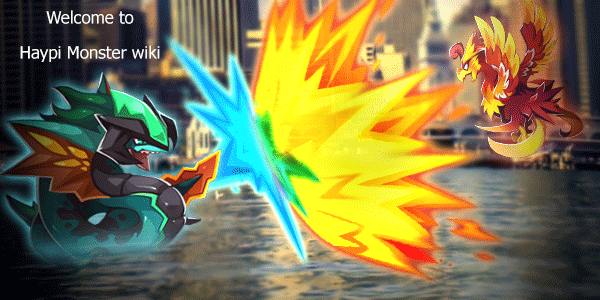 What's your favourite OEl monster? Vote now!
Please use the menu at the top of the wiki for navigation PLEASE NOTE This is the haypi monster wiki NOT the lost tower. For The Lost Tower Wiki go there http://the-lost-tower.wikia.com/ Just a reminder that this wiki is still in progress, and we will be very happy if you can edit and share some of your information or updates for this game. We will be very glad if you are able to edit some of our pages like the Monster pages, Skills pages or any others. We always appreciate any contributions to this wiki!

Please upload any level 60 S monster screenshots

For useful tips strategies and more follow the external links page for more info.
Overview
The gameplay of Haypi Monster is similar to Pokémon. Although it's not a full-fledged RPG game, it's quite close and becomes extremely addictive. Haypi Monster is a world where monsters battle against one another. Collect hundreds of monsters and form your dream team through evolution, breeding, and synthesis. You can also team up with players to duel other players and challenge bosses.
★★★ The most authentic and exciting monster game out there!
★★★ Free download. You can have fun without paying a dime.
★★★ Newbie gift packages to make the game more fun.
★★★ Available on iPhone 5 and iPad 4.
Features:
★ Journey through ten scenes and hundreds of levels. An epic adventure awaits you!
★ Over a hundred monsters can be discovered and captured.
★ Each monster has its unique set of skills from one of 9 elements!
★ Manage the advantages and disadvantages of each monster type wisely.
★ Challenge powerful bosses and win excellent prizes!
★ Power up and do severe damage to your opponents by mastering your battle tactics!
★ Keep leveling up and use evolution tools to make your monsters more powerful!
★ Use magic scrolls to synthesize your monsters into rarer ones!
★ Breed powerful baby monsters and bless them with extraordinary power!
★ Multi-player combat! Team up with your friends or do PVP to see who's the best player!
★ Participate in the Ladder Tournament and compete with players from all over the world!

You will discover even more cool features along the way!
Haypi Monster will definitely bring you an exciting gameplay experience!
Note: Internet connectivity required.
Administration
The administrators here are Hardnox, Stavey  and Caroline Wong
If you have any questions please write on one of the above Administrator's message walls.
We will be looking at the edits every time you edit, so feel free to edit any page you want.
Gladly sign in before you edit.
Warning: Any Vandalism will be met by getting your IP and account blocked from this wiki.
| Current | Version |
| --- | --- |
| Developer | Haypi Co. Ltd |
| Version | 1.4.1 |
| Size | 139 MB |
| Rating | 4+ |
| Requires | iPhone, iPod, iPad, iOS 5.0 |
V1.4.1 Update
PP Count Related
PP will be automatically restored to its fullest after every battle.
White, Green, Blue, and Purple Potions have been removed from game.

Item Drop Relate
Super Love Potions will drop again in the Team Mode of Frozen Cavern, Chaotic Swamp, Holy Ruins and Barren Land.

Skills/Mystery Talents
Bugs fixed on Mirror Shield and Magic Shield.
Adjusted the effect of Pressure.
The effect of the mystery talent Pressure will no longer be stacked when multiple monsters with Pressure are in combat.
Adjustment made on Penetrate.
Penetrate will now work against Foresight, Mirror Shield, and Magic Shield.

Boss Essence
Players can receive up to 10 Boss Essence a day.
Players will no longer receive any Boss Essence after they have reached the limit.
Pal Gift
The reward requirement for monster senders has been raised. Inviters can get their skill book chest when their referrals reach level 15.

AI Adjustment
NPC monsters no longer use the same supplementary skills repeatedly.
see link for full list
V1.3 Update
see link for full list